The Vendon report generator allows users to generate extensive reports over large periods of time, and group data by parameters not available anywhere else. This functionality is especially useful for retrieving reports spanning months and years, as well as for creating reports based on Locations or Tags instead of Machines or calculating average values.
The report generator also lets users save the selected filters as a template for future use, and share these templates with other users on the same account.
The output file can be used for further analysis or data visualization thanks to the convenient report format.
Main features, and updates to improve the user experience:
Design update – follow logical steps to build a report, which will increase user engagement,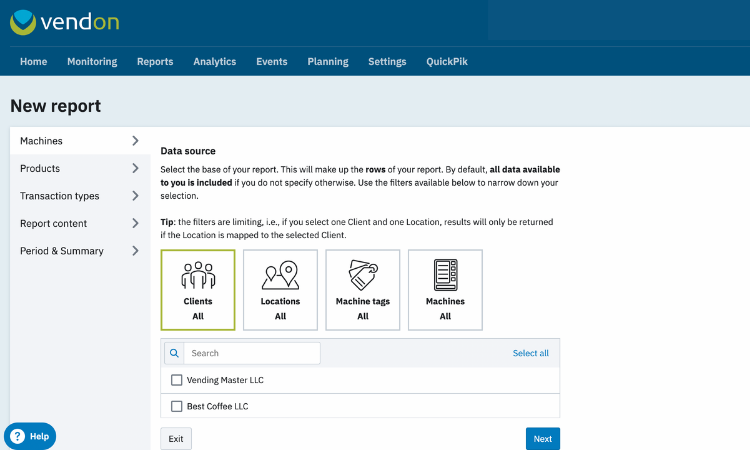 Viewing/editing templates – no more guessing which filters are used in each template, and they can be updated easily,
Template sharing – the possibility to create a template and share it with other users (all or some),
Sample templates – predefined templates available to each user to facilitate getting acquainted with the report generator,

Search bar in filters – less scrolling to locate specific machines, locations, tags, or products,
And all the regular perks that come with the redesign – responsive pages, bulk actions, improved UI and UX.
---
Start optimizing your coffee business today and boost your revenue – get in touch with us at grow@vendon.net or your local distributor.