In today's fast-paced world, the smooth and uninterrupted operation of coffee machines is crucial for businesses in the OCS industry. Unexpected breakdowns and costly repairs can lead to extended machine downtime, dissatisfied customers, and a strain on your budget. However, by implementing proactive preventative maintenance, you can ensure that your coffee machines run flawlessly, maximize their lifespan, and establish a positive reputation for your business.
Vendon has developed a Preventative Maintenance solution, creating a wonderful tool that will take care of all maintenance works and ensure automatic management of upcoming, planned, and completed repairs or upkeep of the coffee machines. The Preventative Maintenance tool offers a range of benefits that can remarkably impact the reliability, efficiency, and cost-effectiveness of your machines. By implementing a proactive approach to maintenance, you can experience numerous advantages instantly. By prioritizing diligent care and adopting proactive maintenance practices, you can ensure that your coffee machines operate flawlessly and continuously, establishing a positive reputation and building customer trust.
Increased equipment reliability and minimized downtime
Regular preventative maintenance allows you to identify and address potential issues before they become major problems. By catching and resolving minor malfunctions early on, you can increase your coffee machines' reliability, reducing unexpected breakdowns and ensuring uninterrupted operation. Besides, the Preventative Maintenance solution allows planning the machine's spare part stock ahead of time and being always informed when a change or repair of the coffee grinder, water filter, and milk system is required.
Proactively addressing maintenance needs helps minimize downtime by reducing the chances of unplanned equipment failures. With the Preventative Maintenance solution, you can avoid costly repairs and the subsequent time required to fix them, keeping your coffee machines up and running without interruptions.
Extended equipment lifespan and resource savings
Timely maintenance ensures that your coffee machines receive proper care and servicing, which can extend their overall lifespan. By implementing preventative maintenance practices, you can avoid premature replacements and save on the costs of purchasing new equipment. The Preventative Maintenance solution is conveniently integrated in the Vendon Cloud allowing users to plan machine maintenance works based on sales, component usage, or schedule a particular timeframe for maintenance checks.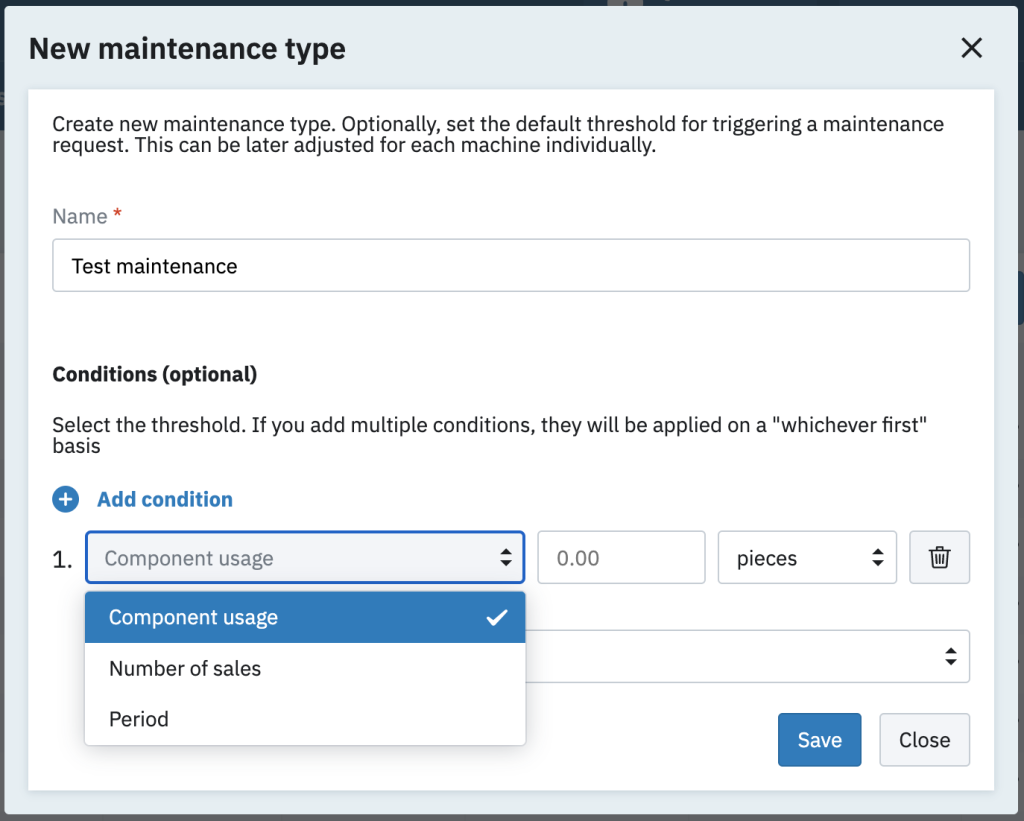 Preventative maintenance helps you identify and resolve minor issues early on, preventing them from escalating into more extensive and costly repairs. By addressing these needs proactively, you can reduce expenses, maximize your budget, and allocate resources more efficiently.
Improved efficiency and consistent product quality
Well-maintained coffee machines operate more efficiently, consuming less energy and resources. With our latest solution, you can optimize the performance of your coffee machines, leading to cost savings and a more environmentally friendly operation. By ensuring that each component functions optimally, you can enhance the overall efficiency of the devices and lead a sustainable business.
Additionally, by regularly maintaining and inspecting production equipment, you can minimize the risk of unexpected breakdowns and malfunctions that could compromise product quality. Proper calibration of machine parts, routine cleanliness and sanitation, and adherence to quality control measures help maintain consistent taste, bringing the best cup of coffee for your customers and ensuring that they always acquire a product made from fresh ingredients and made in a hygienic environment. 

Key takeaways
With a centralized tool for scheduling and tracking maintenance works, you can easily plan and allocate resources, stay informed about ongoing tasks, and maintain accurate records of maintenance activities. Choose when to schedule maintenance within numerous options – either after a certain number/cups of dispensed products, a particular time period, a certain level of water consumption, or a set amount of ingredient consumption. Unscheduled maintenance works are always an option when necessary.
Say goodbye to manual calculations and let the Preventative Maintenance solution by Vendon handle the planning and execution effortlessly. Be one step ahead of your machines and take control of their maintenance today. 
Apply for a FREE demo and experience the power of proactive care for your coffee machines. Start optimizing your coffee business today and boost your revenue – get in touch with us at grow@vendon.net or your local distributor.