Loyalty Platform &
Payment App
Increase customer and employee engagement by using the QuickPik loyalty platform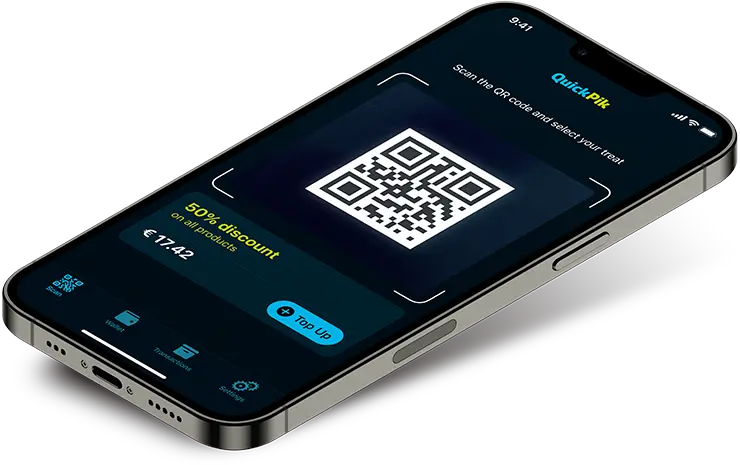 Provide an easy way to enjoy snacks and coffee at semi-public places with QuickPik!

Scan and enjoy your break
QuickPik is an employee loyalty platform and mobile payment app powered by Vendon IoT and Telemetry platform that allows giving employees and customers special discounts and free items, as well as limiting the number of consumptions with a fixed amount of free items for different employee groups in certain periods of time.

Add unlimited users, access 24/7
Add an unlimited number of employees who can use the QuickPik app for their convenience. Besides, the secure Vendon Cloud platform is online 24/7, so anyone can access to oversee and modify benefits at any time of the day.
Offer a discount for different products or beverages to show your appreciation and boost loyalty. Create different bonus plans for different employee groups. Set a custom amount of free products and beverages that are available as a bonus or a reward — choose the amount per day, week, or month. All renewals can be scheduled automatically.
Anyone can add their payment card to the QuickPik app and pay for products or drinks by card. QuickPik app provides its own payment gateway with PCI DSS and 3D security standards, ensuring safe payment transactions. No need to carry around cash or switch between various payment apps.
Anyone can add funds to their digital wallet with cash, using a coin changer or bill validator at the vending machine.

Installing and using the QuickPik platform is easy

The user can now get free or discounted snacks and beverages by scanning the QR code on the machine, while the employer can monitor purchase patterns and optimize benefits accordingly.

Why choose the QuickPik platform?
With QuickPik, you'll be able to cut costs for your business by limiting employee consumption without taking the benefits away entirely. This platform also allows you to:
Powered by Vendon IOT, Telemetry & Payment Platform 24/7

Choose QuickPik and grow your business and consumer loyalty instantly