Be in complete control of all cash and encashments information
Track the cash flow of your machines to the last cent and take care of all of your cash control needs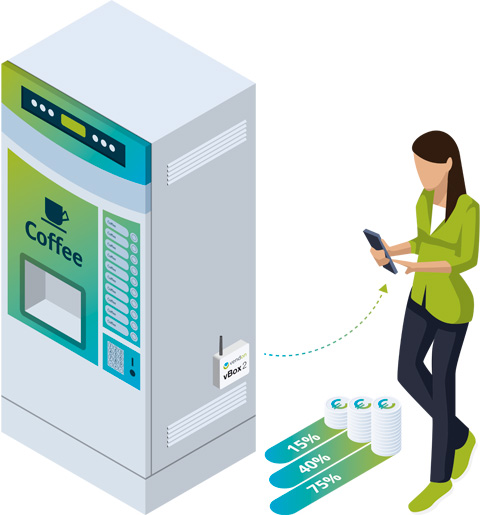 Making sure that the coin changer has a change is not enough
While many industries are now offering customers to pay without cash, it's a different story for the vending industry. The majority of vending and coffee machines still accept cash payments, which makes a robust cash control solution an absolute necessity.

For many operators, this is the top priority, as handling cash does not stop at making sure that the coin changer has enough change.
Main features of the encashment & cash control
How does Vendon's encashment and cash control solution help your business?
Rapidly grow your business revenue
Our IoT and Telemetry platform will provide you with the most precise real-time data, allowing you to work with reports vital for your business growth. With Vendon'sencashment and cash control solution, you'll be able to make data-based decisions to generate real-time insights and predictions to optimize your performance.
Save time and effort on your machine management
Manage ALL your vending and coffee machines remotely on one platform — no need to use different software for each machine or lose time traveling to check your machines on-site. We work with the biggest vending machine manufacturers in the field to provide our customers with machine-specific data.
Ensure a continuous cash flow into your vending machines
This solution allows you to easily set up reference cash values — what's the maximum number of coins the tube can have, and what's your critical level. In case the critical level is reached, you'll get a notification. This feature can help you make sure your machines never run out of change.
Feel complete security about your income
With Vendon you can track your income through the Vendon Cloud platform, seeing every detail and making sure no money is missing. You'll get a complete picture of how much money the machine has at the moment. We're not talking just total values, but the number and type of bills in the stacker, and the value of coins in the cashbox, split by the nominal value.

This solution is perfect for industries like
Start optimizing your vending business and boost your revenue today!