While our vBox2 is a self-reliable and powerful device that enables business owners to make the most profit from their vending and coffee machine business, there are additional technical solutions that Vendon has developed or integrated over time to enhance the benefits of using our product as well as make the user experience even more intuitive and easier.
Read on to learn more about the diverse range of features for your vBox2!
Temperature sensor
Proper milk temperature can make or break a cappuccino – milk that is too cold or too warm will not create long-lasting and airy foam, resulting in a flat drink and a disappointed customer. Or consider chocolate – improper storage conditions lead to the so-called fat bloom, a white film appearing on the surface of the snack, or the sugar bloom, where the chocolate bar loses its glossy appearance.
To help with monitoring the temperature of the milk fridge or the vending machine, install a temperature sensor. With this in place, you can set the minimum and maximum temperature, receive alerts whenever there's a temperature breach, and review historical temperature charts for quality control purposes.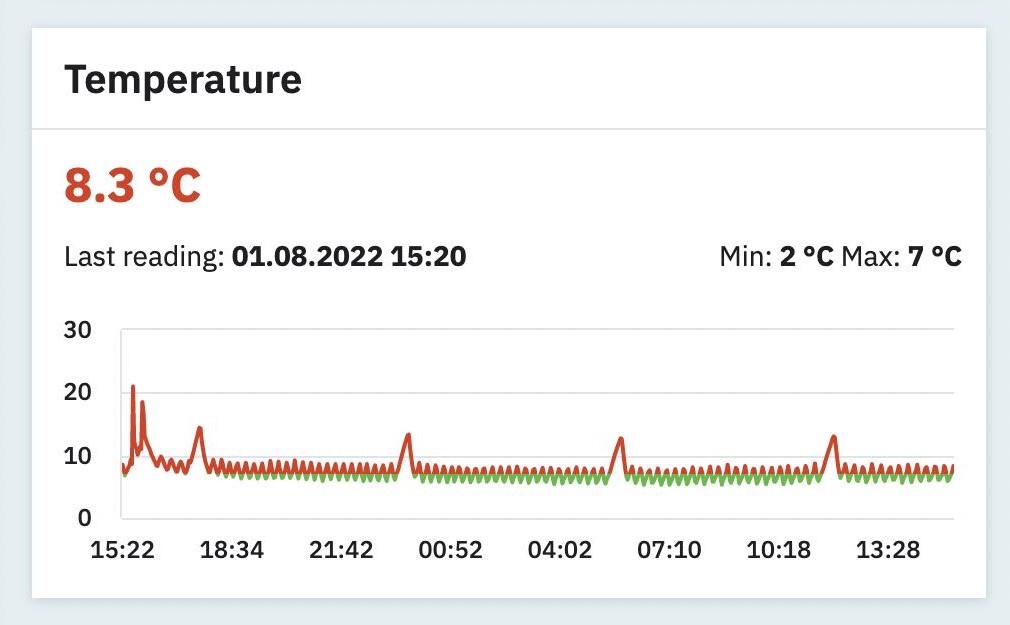 Remote reboot plug
It is estimated that 70% of machine downtime can be solved by a hard machine restart, that is, by physically disconnecting the power plug and plugging it back in a few seconds later. However, the costs associated with such a simple action can feel very disproportionate – dispatching a technician to a location for this five-second job can turn into an hour-long drive, which means fuel expenses, labor expenses, and time lost.
To remedy this, Vendon IoT has come up with an excellent solution – the remote machine restart plug – which does exactly what it says, that is, allows rebooting the machine remotely with a single click in the Vendon Cloud platform. Once installed, which takes no more than a few minutes, this functionality is always at your fingertips so you can fix your vending or coffee machine without an onsite visit.

Barcode printer and scanner
In petrol stations, lavatories are frequented not only by customers paying for fuel or grabbing a quick breakfast but passers-by who do not make any purchases at all. Still, there is a way to convert this group of users into consumers – introduce a fee for using a lavatory and provide a discount voucher in return for the same amount, which can be used to buy a cup of coffee at the coffee machine.
To handle this use case, Vendon has the necessary infrastructure in place – equip the lavatory tourniquet with a barcode printer, and install a barcode scanner in the coffee machine. Whenever the barcode is scanned, your system can validate the barcode number and send a discount to the coffee machine using the Vendon API. Win-win!
Receipt printer
Even though vending machines were historically used to dispense low-value items, such as snacks and drinks, they are increasingly used to sell higher-value items, such as pharmaceuticals, headphones, swimming goggles, and even mobile phones. In cases like this, customers may expect to receive a receipt as proof of purchase, which might be needed for warranty claims, product exchange, and other purposes.
With Vendon, printing purchase receipts is as easy as ever – the receipt can be customized with the company logo, and it includes all of the essential information, such as the company name, tax ID, receipt number, product name, price, and VAT, plus a custom message, like "Thank you for your purchase".
NFC card reader
In the workplace, an employee card is a tool serving multiple functions – it identifies employees, opens doors, tracks time spent at work, and can also store credit for spending at the canteen. There is no reason a vending or a coffee machine should be excluded from communicating with the employee card. In fact, the card can serve as an engagement tool and enable employees to receive discounted or free treats from the local vending and coffee machines.
How to make this happen? NFC card reader to the rescue! Equipped with a wide range of NFC technology and compatible with the QuickPik payment and loyalty solution, it can turn an ordinary machine into an employee's favorite part of the day.

Customize your add-ons package
All add-ons are fully compatible with the vBox2 and are integrated with Vendon Cloud making them all easy to add to the existing solution package and easy to use overall. Our team is determined to find the best product package for each client, as each business comes with its unique position and goals. Thus, the variety of additional features allows each company to form its individual approach based on its customer needs and business plan.
---
To learn more about how Vendon can help advance your business, reach out to us at grow@vendon.net or your local Vendon Distributor.