QuickPik by Vendon is a loyalty program, developed for easier reward and bonus management for employees and customers. The program provides limitless options to easily customize loyalty benefits which are adjusted to a particular employee and/or customer range and is a guarantee in building employees' satisfaction with their workplace or making the business more attractive in customers' eyes. The loyalty program is fully integrated with the Vendon IoT management suite and can be accessed via Vendon Cloud and the QuickPik mobile application.
The QuickPik improvements come at a time when businesses need a solution to optimize costs while remaining appealing to their customers. A customizable bonus program is an invaluable tool to reduce the waste of money and be able to reward employees at the same time.
The easiest way to customer satisfaction
Implementation of a loyalty program is a clear indication that the business values its customers and employees. Employee benefits are now more relevant than ever when many factors pressure businesses to optimize costs, yet preserve their appeal as a business to attract and retain talents. Bonuses in form of free coffee and snacks as one of the perks for employees is the new normal already, not an exception anymore. However, in semi-public spaces, such as schools or hospitals, where the coffee machines are frequented by both staff and visitors, providing benefits can seem complicated. With QuickPik, the solution is quite simple – the loyalty program allows setting up a bonus system that allows access to the rewards to a particular range of people.
Still, in many cases, stricter access control is required – based on employee duties, product availability, and other factors. Vendon has worked on developing the functionalities of the loyalty program even further and upgraded the loyalty program with a new feature package to provide more options for businesses to sort out bonus levels, select particular product range as rewards and overall provide more control over which products and what discounts can be retrieved using the QuickPik solution.
Upgraded features
Until now, QuickPik allowed granting an indefinite discount or a certain number of free products during a certain period. The discount or free access was applied to all products in the machines, that were equipped with the QuickPik program.
Sort out the discount or free access for particular products. Now, it is possible to distinguish product groups by allocating a separate discount for each. For goods that are not included in any group, the full price must be paid – this can be done with a virtual QuickPik wallet, a card linked to the QuickPik account, or regular payment options (cash or cashless payment methods).
Create exceptions in the product range that the discount applies to. For example, the perks apply to all products in the machine, except one particular soda drink – thus, it eases to set up the system by simply excluding one product or product group.
It is important to note that the new functionality allows choosing one type of bonus only – there is no option to mix discounts with free products in the machine.
Create a group template with an already set discount scheme and then simply add new users to it. Additionally, the machine operators will have a chance to grant a one-time discount or one free product, which has not been an option till now. This new feature allows receiving a single product or discount for one purchase and is not continued or renewed afterward.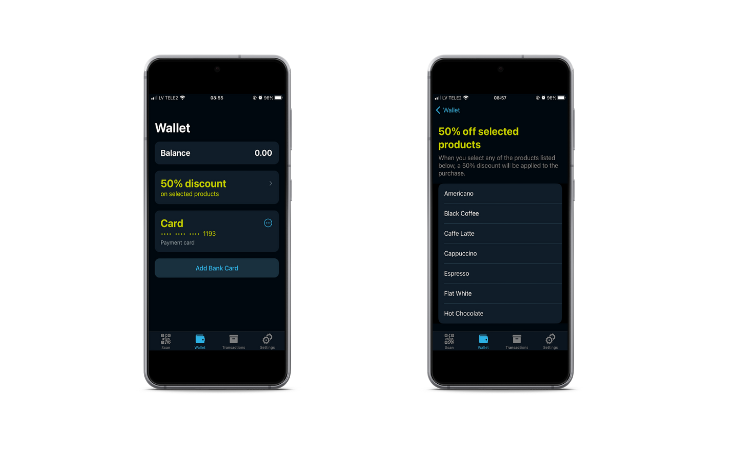 How to use the new functionality?
New improvements allow for updating the already existing bonus system with more advanced features and even more convenient control and monitoring of the assigned rewards.
Now it is possible to sort out the discount or free access for particular products or distinguish product groups by allocating a separate discount for each of them. For example, a discount of 50% can be set for sandwiches only. Also, it is now possible to define several bonus groups, i.e., 50% discount on sandwiches, 100% discount on coffee, 20% discount on water bottles, etc.
The new improvements allow the distribution of free items as well by setting a certain number of products for a certain period – for example, 1 free coffee a week, 2 free water bottles a day, and/or 10 free sandwiches a month. This functionality allows distributing bonuses all the while limiting options to optimize resources, for instance, allowing to take black coffee or espresso free of charge but decadent drinks like a double latte with caramel syrup – for a full price. Or handing out free of charge 5 black coffees every single day and only one latte every week.
A larger option range for the reward program can serve as a motivational aspect to encourage a healthier lifestyle, for example by giving a discount on healthy products while chocolate and other snacks selling at full price. Or, for example, if employees work in conditions where it is mandatory to provide access to free water. Then water bottles from the vending machine can be dispensed for free, but all other goods for a fee.

The necessity for improvements
While the market develops, the needs of businesses grow too. Vendon is continuously improving all its telemetry products and solutions to satisfy customer needs, would remain versatile, and could provide competitive service with the offered product range. QuickPik is an excellent product and tool that can broaden and outgrow the coffee and vending industry by extending the loyalty program platform to other businesses, firstly aiming at the industry sector.
The loyalty program also remains one of the main tools to engage customer loyalty and attract new clients. A discount or a free product that is particularly adjusted to customer grows the loyalty and the feeling of being special mostly guarantees that the customer will return for the next special deal.
Effortless management and convenience
With new functionalities, the management of the loyalty program users and purchases stays as easy as before. All new features are integrated with Vendon Cloud and the mobile loyalty application for effortless monitoring and control over the program setup and features. Account administrators can set up multiple bonus schemes for an end user or a user group, while the end users see exactly what they have access to in the QuickPik mobile app.
The program also remains easy to set up and easy to use. QuickPik is enabled on Vendon Cloud and powered via a QR code placed on the machine. The user with QuickPik mobile application can get free or discounted snacks and beverages by scanning the QR code on the machine, while the employer can monitor purchase patterns, and allocate and optimize benefits in Vendon Cloud accordingly.
Watch our webinar recording about "Customer loyalty in Vending" hosted by our Head of Product Guna Kirse.
---
To learn more about the new features and how Vendon QuickPik can help advance your business, reach out to us at grow@vendon.net or your local Vendon Distributor.